In News:
Prior to the BRICS Summit, PM Modi participated, by way of a recorded keynote speech, in the Opening Ceremony of the BRICS Business Forum.
What's in Today's Article:
BRICS – About, timeline, New Development Bank, role of BRICS, challenges
News Summary
BRICS
BRICS brings together 5 major emerging economies - Brazil, Russia, India, China and South Africa.
BRICS as a platform comprises 41% of the world population, has 24% of the world GDP and over 16% share in the world trade.
Timeline

New Development Bank (NDB)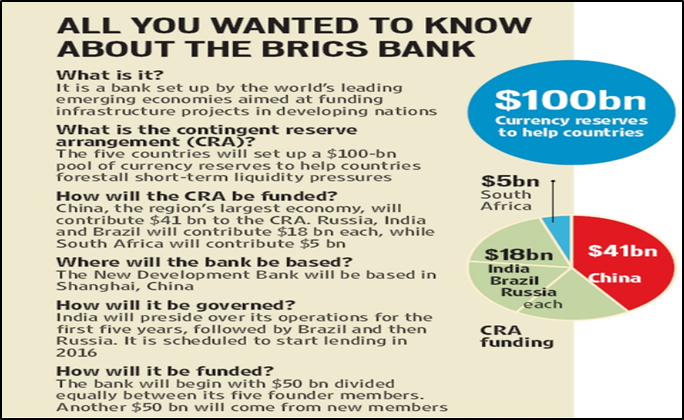 NDB, also known as BRICS bank, was launched in 2015.
NDB has initiated its membership expansion and started formal negotiations with prospective members in late 2020.
In September 2021, NDB admitted the UAE , Uruguay and Bangladesh as the first batch of new members.
Role of BRICS: An Analysis
New Development Bank and the Contingency Reserve Arrangement are actually the flagship outcome of BRICS.
BRICS which started off primarily with an economic pillar, has now diversified considerably to include security, health, science and technology, culture and civil society.
Role of BRICS has also been very important in the context of being a pressure group on the question of reform of multilateralism and also on the question of reform of global governance institutions.
BRICS sees itself as a bridge between developing countries and developed world and takes up issues which are very relevant to the developing countries.
Challenges Faced by BRICS

News Summary
Prime Minister Narendra Modi addressed the meeting of the BRICS Business Forum held in virtual format.
The BRICS Business Forum meeting was held ahead of 14th summit of BRICS nations.

The 14th summit of BRICS nations will be held in Beijing in Virtual format.
Key Highlights:
Russian President's remark
In the first three months of 2022, trade between the Russian Federation and the BRICS countries increased by 38% and reached $45 billion.
Contacts between Russian business circles and the business community of the BRICS countries have intensified.
g., negotiations are under way to open Indian chain stores in Russia, increase the share of Chinese cars, equipment and hardware on Russian market.
Russian President hailed India's decision to import more oil from Russia.

Although this has led to friction in India's ties with Western countries, including the US.
It should be noted that Russian oil accounts for no more than 2% of its total oil imports of India.
Remark of Indian PM
Proposals made

PM Modi proposed that the BRICS Business Forum may develop a platform for regular exchanges between start-ups in BRICS countries.
He also called for a dialogue on innovation-led economic recovery.

India as fastest growing major economy

PM Modi said that this year, India is expecting 7.5% growth, which makes it the fastest growing major economy.
Transformative changes are taking place in every sector in the emerging New India.
Key pillar of India's current economic recovery is technology-led growth.

India is supporting innovation in every sector

India has made innovation-friendly policies in many areas like space, blue economy, green hydrogen, clean energy, drones, geo-spatial data.
India has one of the best eco-systems in the world for innovation, which is reflected in the growing number of Indian start-ups.
There are more than 100 unicorns in over 70,000 start-ups in India, and their number continues to grow

Indian digital economy is growing in size

The value of the Indian digital economy will reach 1 trillion dollars by 2025.
The growth of the digital sector also encouraged the participation of women in the workforce.

There are approximately 36 % women out of 4.4 million professionals working in our IT sector.
The maximum benefit from Technology-based financial inclusion has also been gone to the women in India's rural areas.

He invited BRICS Women Business Alliance to undertake study in this transformative change in India.

Efforts to improve the ease of doing business

PM Modi highlighted the fact that even during the pandemic, India continued to make many efforts to improve the ease of doing business.
Thousands of rules have been changed to reduce the compliance burden on the business.
The work is going on at a massive scale to bring in more transparency and consistency in government policies and procedures.

Improved infrastructure in India

He said infrastructure in India is also being improved on a large scale, and its expansion is also taking place.
For the same, India has prepared a National Master Plan.
There are investment opportunities of $1.5 trillion under our National Infrastructure Pipeline.