C-SECTION
Nov. 28, 2021
One in two women who go to a private hospital undergoes a Caesarean section (C-section), according to the latest National Family Health Survey (NFHS) data.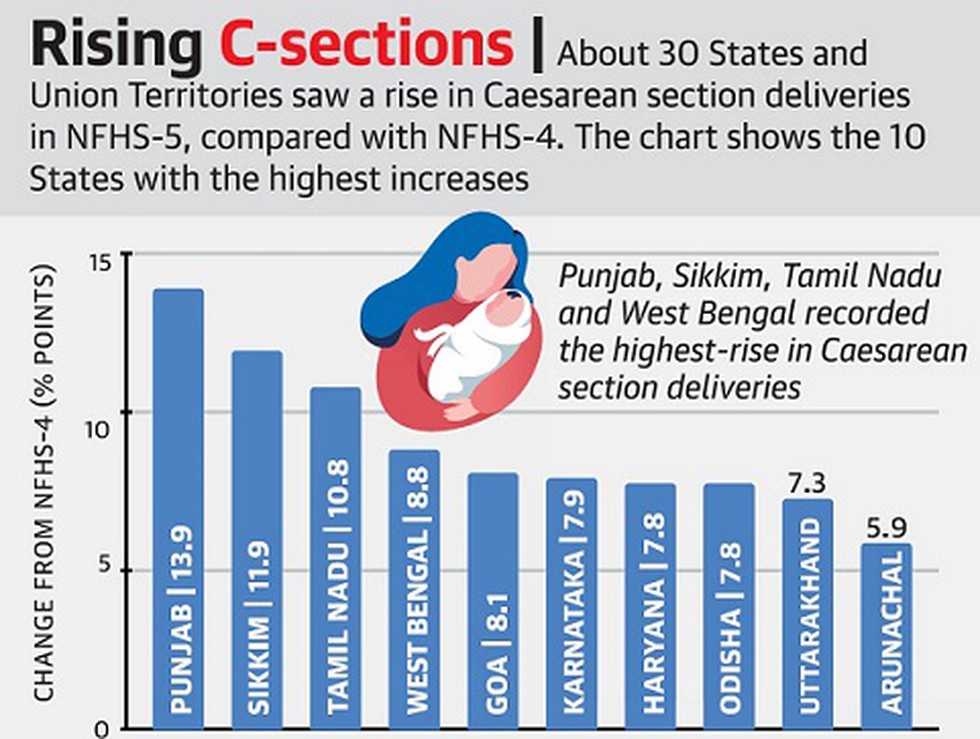 About:
The increasing trend in private medical facilities, which have seen a rise in such operations from 40.9% to 47.4%, has led to a jump in pan-India numbers — from 17.2% in 2014-2015 to 21.5% in 2019-2020, according to NFHS-5. This means that one in five women who go to any medical facility, private or public, undergoes a C-section.


When medically justified, a C-section can effectively prevent maternal and perinatal mortality and morbidity. According to the World Health Organization, the ideal rate is between 10% and 15%.


When the rates rise towards 10% across a population, the number of maternal and newborn deaths decreases. When the rate goes above 10%, there is no evidence that mortality rates improve.


There are many States and Union Territories where private hospitals conduct seven or eight out of 10 deliveries through C-section. These include West Bengal (82.7%), Jammu and Kashmir (82.1%), Tamil Nadu (81.5%), Andaman and Nicobar (79.2%) and Assam (70.6%).