CARNOT PRIZE 2018
Jan. 31, 2019
Union Minister Piyush Goyal has been awarded the 4th annual Carnot Prize for "pathbreaking transformations in India's energy sector".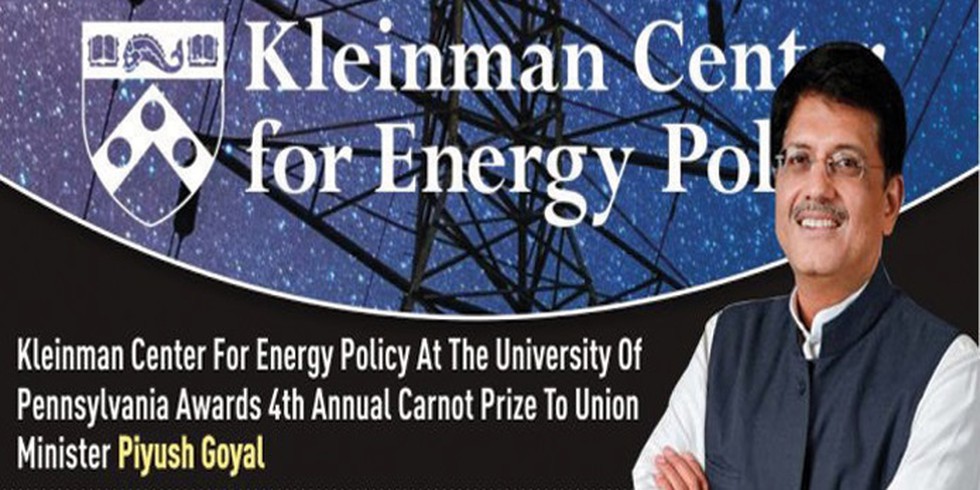 Carnot Prize: 
Objective: Carnot Prize, the most prestigious award in the energy sector, is the annual recognition of distinguished contributions to energy policy through scholarship or practice. 


Awarded by: Kleinman Center for Energy Policy at the University of Pennsylvania School of Design. 


Named after: French physicist Nicolas Sadi Carnot who recognised that the power of the steam engine would "produce a great revolution" in human development. 


Previous winners include: 

Daniel Yergin, Vice chairman of IHS, 


Fatih Birol, Director of International Energy Agency, 


Gina McCarthy, a career public servant in fields of energy and environment. 






2019 winner: This year, it has been awarded to Union Minister Piyush Goyal is a recognition of the pathbreaking transformations in India's energy sector by launching – 

The rural electrification drive that helped in achieving '24x7 Affordable, Environment Friendly Power for all' and 


UJALA scheme the world's largest LED distribution programme, in which 143 crore LED bulbs have been provided.