CONTRACEPTION
Nov. 30, 2021
Less than one in 10 men use condoms in India, while nearly four in 10 women undergo sterilisation to avoid pregnancy, according to the latest National Family Health Survey-5 (2019-21), which also shows that female sterilisation continues to be on the rise.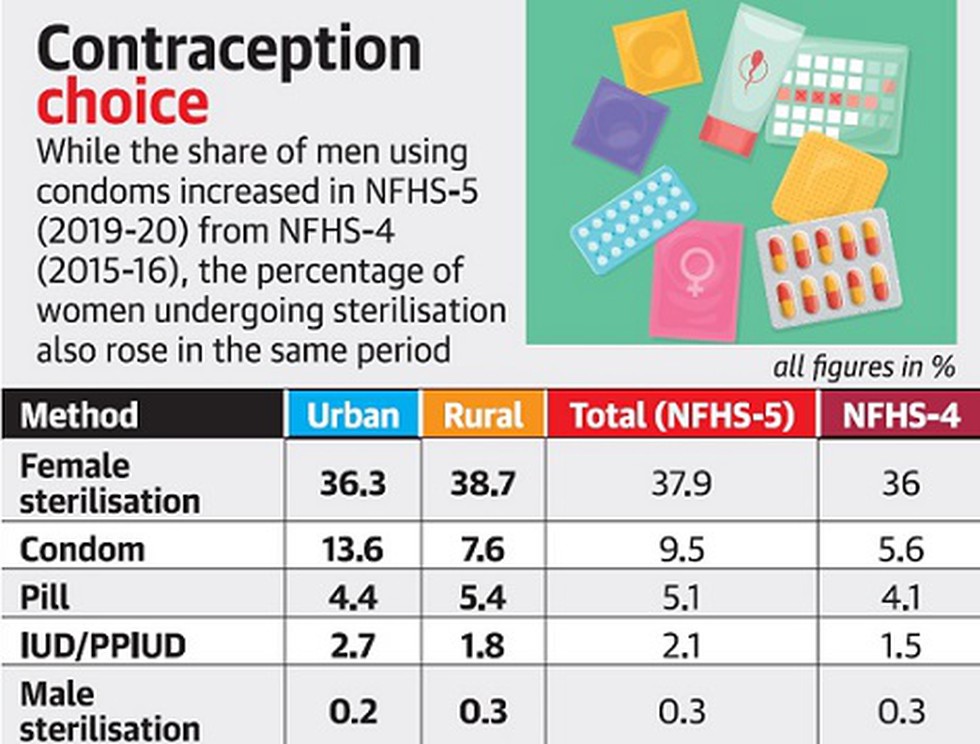 About:
Only 9.5% of men used condoms but 37.9% of women underwent sterilisation, according to the NFHS.


Though condom use in urban India is better than rural parts, the overall trend is vastly similar — 7.6% men in rural India and 13.6% men in urban India use condoms, while 38.7% women in rural India and 36.3% in urban India underwent sterilisation.


Female sterilisation has gone up for the entire country from 36% in NFHS-4 (2015-16) to 37.9% in NFHS-5.


The States with the highest increase in female sterilisation were Bihar (14.1% points to 34.8%), Goa (13.6% points to 29.9%) and Madhya Pradesh (9.7% points to 51.9%) .


The State with the highest condom use was Uttarakhand (25.6%) and the Union Territory Chandigarh (31.1%). The silver lining, however, is that use of condoms has gone up between the two surveys — from 5.6% to 9.5%.


Female sterilisation is also the preferred choice of contraception over methods such as pills (5.1%), injectables (0.6%) and intra-uterine devices (IUD) and post-partum intra-uterine devices (2.1%).