EWS QUOTA
Nov. 26, 2021
The Union Government informed the Supreme Court that it had taken a "considered decision" to revisit the "criteria" for determining Economically Weaker Sections (EWS) to provide them reservation in terms of the provisions of the Explanation to Article 15 of the Constitution inserted by the Constitution (103rd Amendment) Act 2019.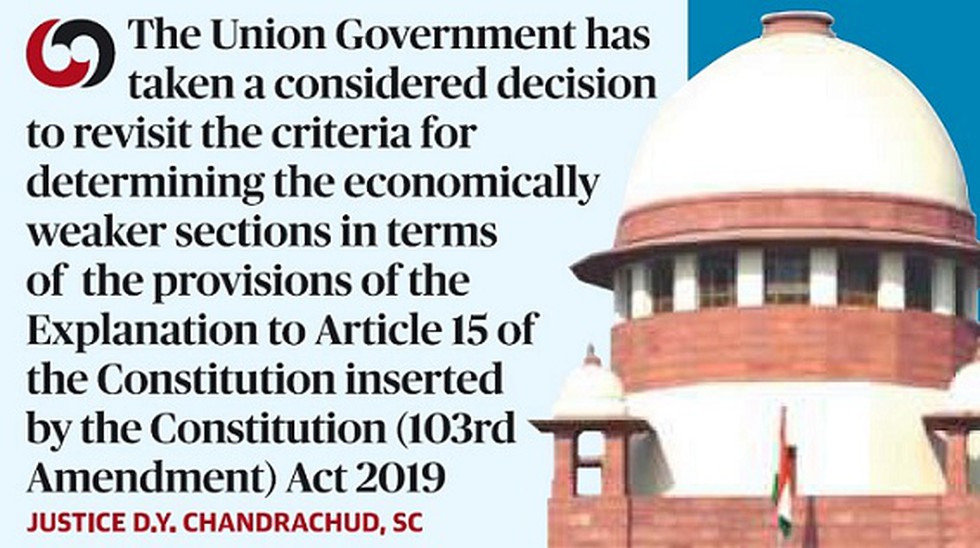 About:
The Government, represented by Solicitor-General Tushar Mehta, said it would take four weeks for the exercise.


The submission follows rounds of grilling from the court during past hearings to reveal the logic and study before zeroing in on the "exact figure" of ₹8 lakh as the annual income limit to identify the EWS.


The court was hearing a case filed by NEET aspirants challenging a July 29 notification announcing 27% quota to OBCs and 10% reservation to the EWS in the All India Quota (AIQ) category.


The Government assured the court that the NEET counselling would be deferred for four weeks till a decision was taken on the EWS quota.


The EWS quota was meant for persons who earned less than ₹8 lakh annually and did not benefit from any other existing reservation.