ILLEGAL TRADE IN TIGER
Aug. 22, 2019
A new report by Traffic, an environmental NGO has quantified the illegal global trade in tigers and tiger parts over a 19-year period between 2000 and 2018.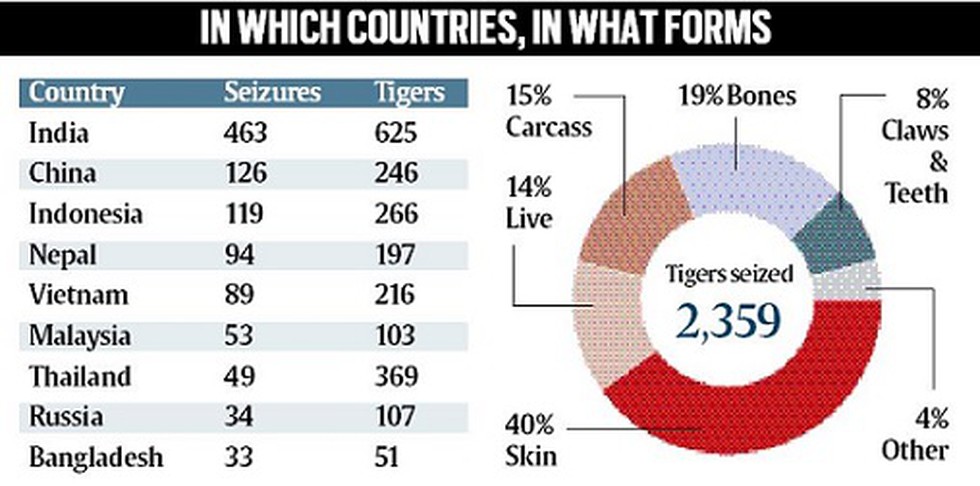 Key findings: 
Although Tigers are listed in Appendix I of CITES, which bans all commercial international trade for member countries, recent years have revealed an increase in tiger captive breeding to fuel demand for various tiger products.


Overall, 2,359 tigers were seized from 2000 to 2018 across 32 countries and territories globally. These occurred from a total of 1,142 seizure incidents.


Apart from live tigers and whole carcasses, tiger parts were seized in various forms such as skin, bones or claws.


On average, 60 seizures were recorded annually, accounting for almost 124 tigers seized each year.


The top three countries with the highest number of seizure incidents were India, followed by China and Indonesia.


India is the country with the highest number of seizure incidents (463, or 40% of all seizures) as well as tigers seized (625).


In terms of various body parts seized, India had the highest share among countries for tiger skins (38%), bones (28%) and claws and teeth (42%).