MEGA FOOD PARK, SURAT
Oct. 30, 2018
Union Minister for Food Processing Industries inaugurated the first Mega Food Park in Gujarat in Surat District. A second Mega Food Park has been sanctioned by the Ministry in Mehsana District of Gujarat.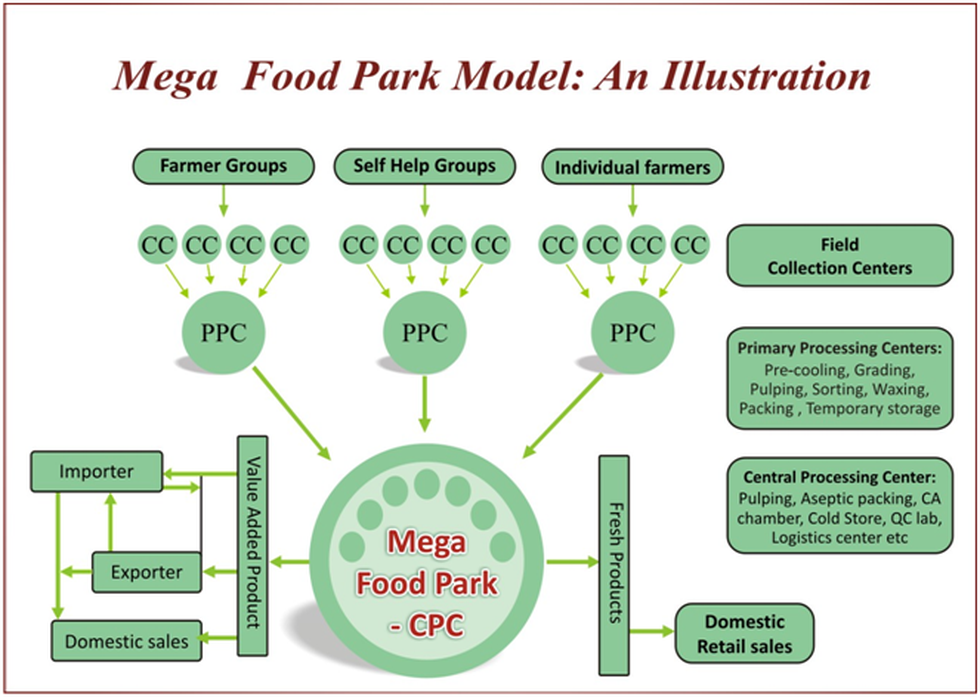 About:
Objective: To give a major boost to the food processing sector by adding value and reducing food wastage at each stage of the supply chain with particular focus on perishables.


Parent ministry of scheme: Ministry of Food Processing Industries.


Implementing agencies:

The Mega Food Park project is implemented by a Special Purpose Vehicle (SPV) which is a Body Corporate registered under the Companies Act.


However, State Government, State Government entities and Cooperatives are not required to form a separate SPV for implementation of Mega Food Park project.






Funding: Under the Scheme, Government of India provides financial assistance upto Rs. 50 Crore per Mega Food Park project.


Cluster approach: The Mega Food Park Scheme is based on "Cluster" approach and envisages creation of state of art support infrastructure in a well-defined agri / horticultural zone for setting up of modern food processing units along with well-established supply chain.


Project Components:
Mega food park typically consists of supply chain infrastructure including

collection centres,


primary processing centres (PPC),


central processing centres (CPC),


cold chain and


around 30-35 fully developed plots for entrepreneurs to set up food processing units.






Collection Centres and Primary Processing Centres (PPC): These component have facility for cleaning, grading, sorting and packing facilities, dry warehouses, specialized cold stores etc.

Central Processing Centres (CPC): Includes common facilities like Testing Laboratory, Cleaning, Grading, Sorting and Packing Facilities, Dry Warehouses, specialized storage facilities etc.