MULTI-DIMENSIONAL POVERTY INDEX (MPI)
Nov. 27, 2021
The first-ever Multi-dimensional Poverty Index (MPI) prepared by government think tank NITI Aayog has said that Bihar has the highest proportion of people, at 51.91 per cent of the state's population, who are multidimensionally poor, followed by Jharkhand at 42.16 per cent and Uttar Pradesh at 37.79 per cent.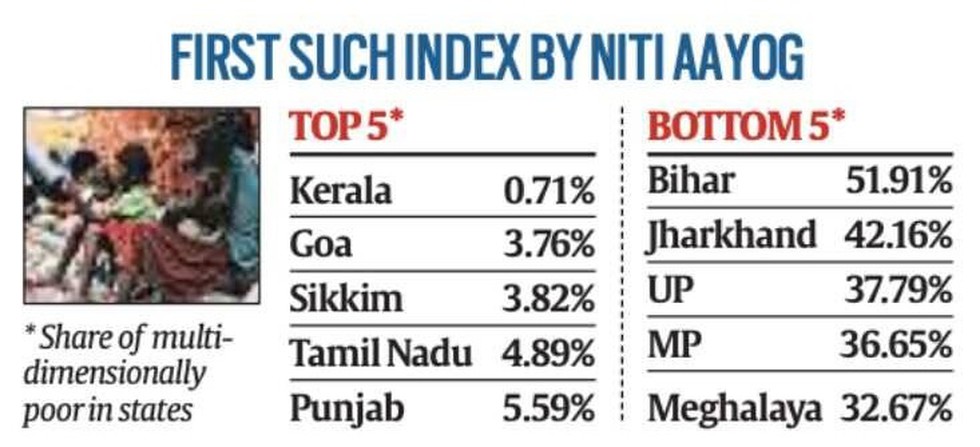 About:
Bihar also has the highest number of malnourished people followed by Jharkhand, Madhya Pradesh, Uttar Pradesh, and Chhattisgarh.


Kerala, Goa, and Sikkim have the lowest percentage of population being multidimensionally poor at 0.71 per cent, 3.76 per cent and 3.82 per cent, respectively.


This baseline report of the national MPI measure is based on the reference period of 2015-16 of the National Family Health Survey (NFHS).


Among the Union Territories (UTs), Dadra and Nagar Haveli (27.36 per cent), Jammu & Kashmir, and Ladakh (12.58), Daman & Diu (6.82 per cent) and Chandigarh (5.97 per cent), have emerged as the poorest UTs in India.


The proportion of poor in Puducherry at 1.72 per cent is the lowest among the Union Territories, followed by Lakshadweep at 1.82 per cent, Andaman & Nicobar Islands at 4.30 per cent and Delhi at 4.79 per cent.