PM MODI IN KARNATAKA
June 24, 2022
Prime Minister Narendra Modi marked the 8th International Yoga Day celebration by participating in a Mass Yoga Demonstration involving thousands of participants at Mysuru Palace Ground in Mysuru, Karnataka. The theme of International Day of Yoga is - Yoga for humanity".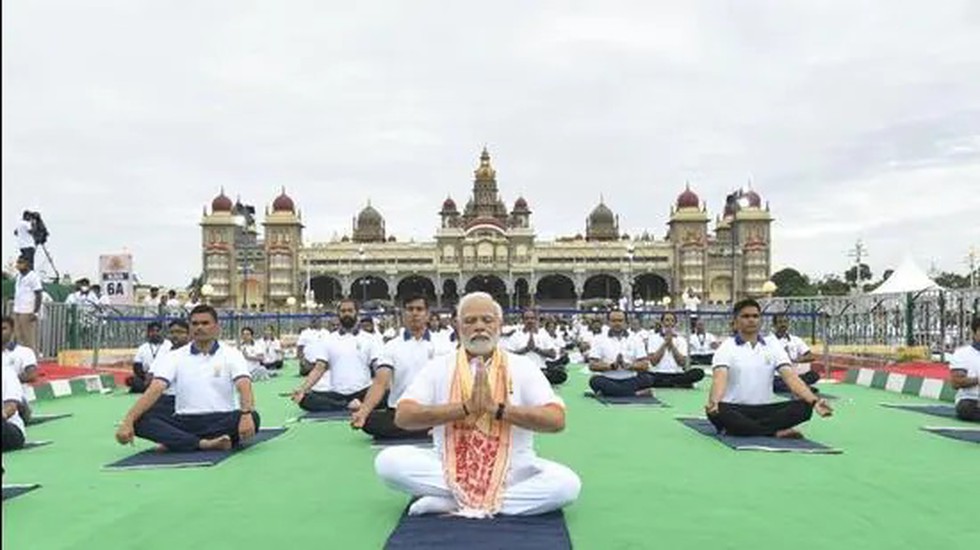 About:
He inaugurated the Centre for Brain Research and laid the foundation Stone for Bagchi Parthasarathy Multi-speciality Hospital at IISc Bengaluru.
During the Programme, the Prime Minister dedicated to the Nation, India's first Air Conditioned Railway Station - Sir M Visvesvaraya Railway Station at Baiyappanahalli, which is developed on the lines of a modern airport at a total cost of around Rs 315 crore.
The Prime Minister also dedicated to the Nation the 100 percent electrification of the Konkan railway line (about 740 Kms) from Roha (Maharashtra) to Thokur (Karnataka) by flagging of Electric trains from Udupi, Madagaon and Ratnagiri.
The Prime Minister laid the foundation stone of the Coaching terminal for sub-urban traffic at Naganahalli Railway Station. The Coaching terminal will also have a MEMU shed and will decongest the existing Mysuru Yard.
He also dedicated to the nation the 'Centre of Excellence for persons with communication disorders' at the All India Institute of Speech and Hearing (AIISH).