PRADHAN MANTRI JAN-DHAN YOJANA (PMJDY)
Aug. 28, 2020
Pradhan Mantri Jan-Dhan Yojana (PMJDY) - National Mission for Financial Inclusion, completes six years of successful implementation.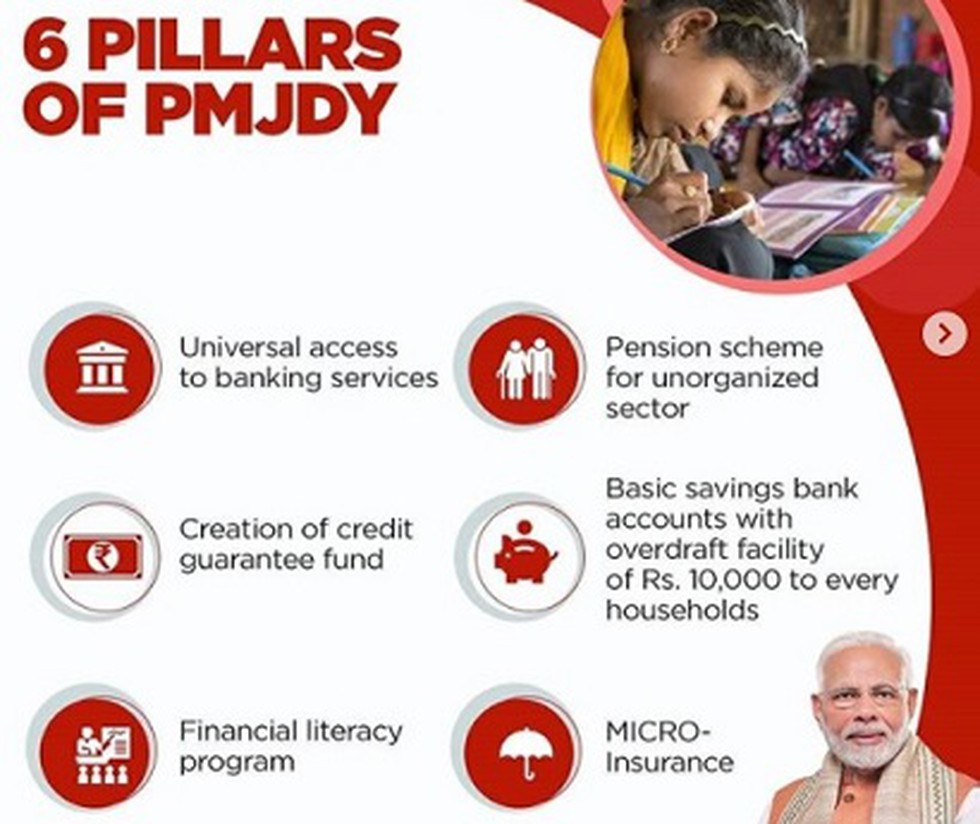 About:
PMJDY was announced by Prime Minister Narendra Modi in his Independence Day address on 15th August 2014. It was launched on 28th August.


Pradhan Mantri Jan-Dhan Yojana (PMJDY) is National Mission for Financial Inclusion to ensure access to financial services, namely, Banking/ Savings & Deposit Accounts, Remittance, Credit, Insurance, Pension in an affordable manner.


The scheme was launched based upon the following 6 pillars:

Universal access to banking services – Branch and BC


Basic savings bank accounts with overdraft facility of Rs. 10,000/- to every household


Financial Literacy Program– Promoting savings, use of ATMs, getting ready for credit, availing insurance and pensions, using basic mobile phones for banking


Creation of Credit Guarantee Fund – To provide banks some guarantee against defaults


Insurance – Accident cover up to Rs. 1,00,000 and life cover of 30,000 on account opened between 15 Aug 2014 to 31 January 2015


Pension scheme for Unorganized sector






The Government decided to extend the comprehensive PMJDY program beyond 28.8.2018 with some modifications

Focus shift from 'Every Household' to Every Unbanked Adult'


RuPay Card Insurance - Free accidental insurance cover on RuPay cards increased from Rs. 1 lakh to Rs. 2 lakh for PMJDY accounts opened after 28.8.2018.


Enhancement in overdraft facilities: OD limit doubled from Rs 5,000/- to Rs 10,000/-; OD upto Rs 2,000/- (without conditions) and Increase in upper age limit for OD from 60 to 65 years.