STATE LEGISLATURES
July 30, 2022
Kerala, which slipped to the eighth slot in holding Assembly sittings during the first wave of the COVID-19 pandemic in 2020, returned to the top spot in 2021, with its House sitting for 61 days, the highest in the country.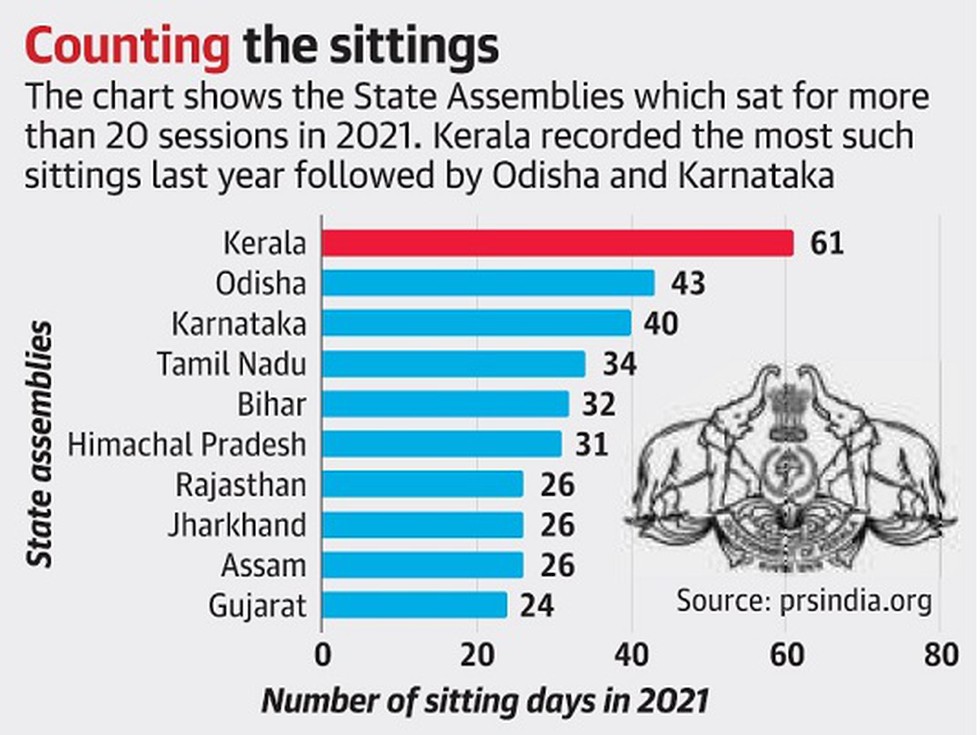 About:
The State's showing was impressive as 2021 saw the more virulent second wave of the pandemic. In fact, between 2016 and 2019, it remained at the top with an average of 53 days.
Despite enjoying the record of having the highest number of sittings in 2021, Kerala (where the Left Democratic Front is in power since May 2016) had promulgated 144 ordinances, also the highest in the country.
Making the findings in its study on the functioning of State Assemblies for 2021, the PRS Legislative Research (PRS), a New Delhi-based think tank, states that for the year in question, Odisha followed Kerala with 43 sitting days; Karnataka 40, and Tamil Nadu 34 days.
Of the 28 State Assemblies and one Union Territory's legislature, 17 met for less than 20 days. Of them, five — Andhra Pradesh, Nagaland, Sikkim, Tripura and Delhi — met for less than 10 days. The figures for Uttar Pradesh, Manipur and Punjab were 17, 16 and 11, respectively.