THE INDIA JUSTICE REPORT 2019
Nov. 8, 2019
The India Justice Report 2019 was released by the Tata Trusts in collaboration with Centre for Social Justice, Common Cause, and Commonwealth Human Rights Initiative, among others.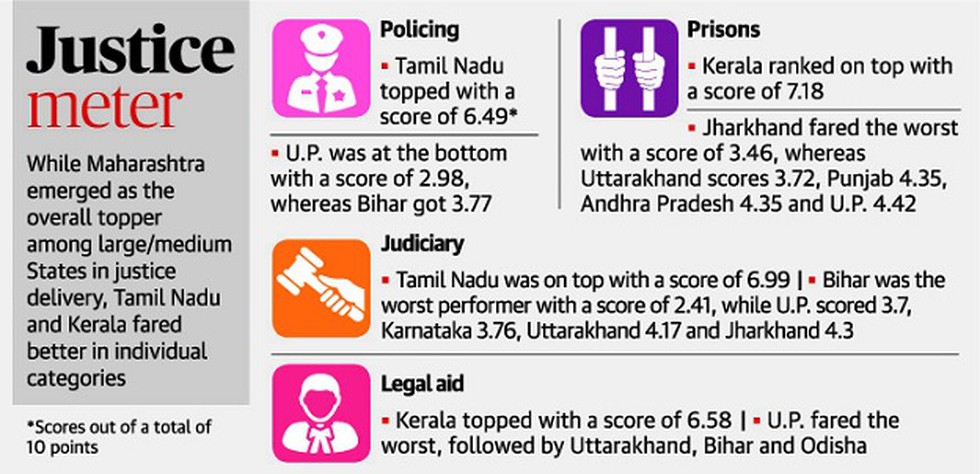 About:
This is the first-ever ranking of Indian States on justice delivery.


The report is based on publicly available data from different government entities on the four pillars of justice delivery — police, judiciary, prisons and legal aid.


Key findings of report:
Maharashtra has topped the list of 18 large-medium States in the overall justice delivery, followed by Kerala, Tamil Nadu, Punjab and Haryana. In this category, Jharkhand, Bihar and Uttar Pradesh are at the bottom. Among seven smaller States, Goa leads the group.


Even the best performing States scored less than 60% in their performance on capacity across the police, judiciary, prisons and legal aid.


The country has about 18,200 judges with about 23% sanctioned posts vacant. Women are poorly represented in these pillars, constituting just 7% of the police.


Prisons are over-occupied at 114%, where 68% are undertrials awaiting investigation, inquiry or trial.


Most States are not able to fully utilise the budgets allocated to them by the Centre, while the increase in spending on the police, prisons and judiciary does not keep pace with the overall increase in State expenditure.


Some pillars also remain affected by low budgets. For instance, India's per capita expenditure on free legal aid is 75 paise per annum.