TURBOCHARGING DELHI-NCR STARTUP ECOSYSTEM
Sept. 12, 2019
Not-for-profit organisation TiE Delhi-NCR and Bangalore-based research firm Zinnov released a report titled "Turbocharging Delhi-NCR Startup Ecosystem."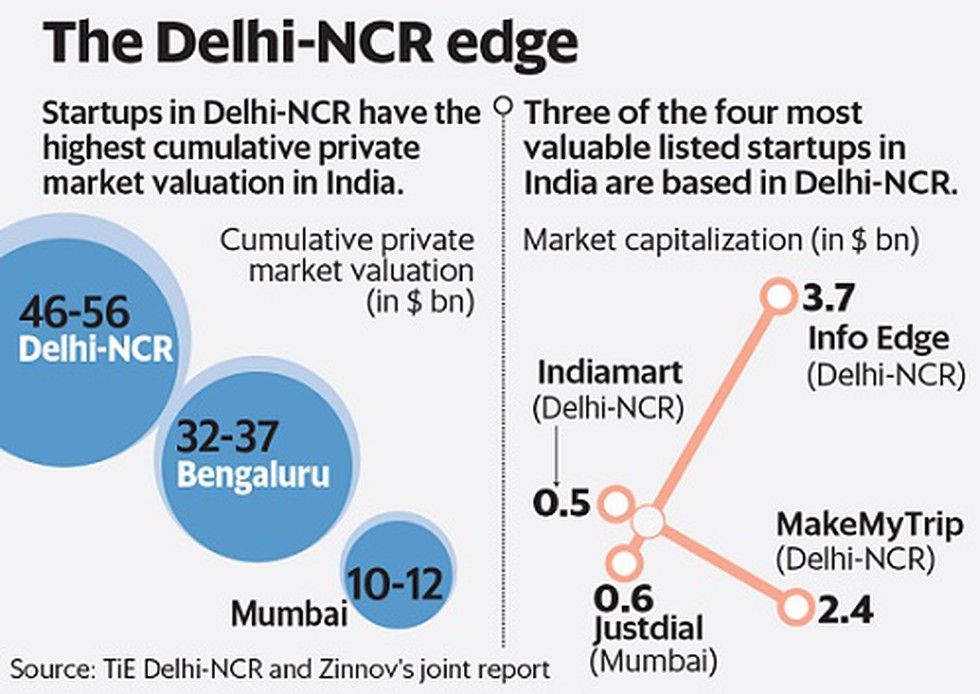 Key findings of report:
The Delhi-NCR region has more startups and unicorns than Bengaluru and Mumbai.


Number of Startups: A total of 7,039 startups were founded in Delhi-NCR since 2009. Bengaluru had 5,234 startups in the same period, followed by Mumbai with 3,829. Within Delhi-NCR, Delhi accounted for 4,491 start-ups, Gurugram 1,544 and Noida 1,004.


Unicorns: Delhi-NCR is home to 10 unicorns, or those with a valuation of at least $1 billion. In comparison, Bengaluru has 9 and Mumbai has 2. Some of the unicorns in the Delhi-NCR region are MakeMyTrip, Info Edge and Indiamart.


Valuation of startups: With 10 unicorns, the cumulative private market valuation of startups in the Delhi-NCR region is currently $46-56 billion, followed by Bengaluru at $32-37 billion followed by Mumbai at $10-12 billion.


Projections: With suitable government and private sector interventions, Delhi-NCR could become one of the top 5 global startup hubs, with 12,000 startups, 30 unicorns and a cumulative valuation of about $150 billion by 2025.


Challenges: The pace of founding new startups has, however, slowed over the past two years across India due to lack of affordable co-working spaces, less number and quality of accelerators and incubators, shortage of technical talent, lack of seed and early-stage funding and low corporate participation.